Hi everyone !
In one of the previous article, we showcased one of the new monster that were being designed, the Ghoul.
This time we'd like you to meet the Skull Crusher !
And we made sure the big guy deserves his nickname. Now twice as big as before, and wielding a gigantic maul, the Skull Crusher is ready to crush skulls, including the player's.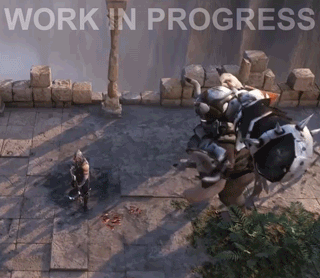 The Skull Crusher has five new attack types skills. The following footage is still Work In Progress, so the particle effects you are seeing are placeholders :
His first attack will smash its target straight on. However, should one or several target stay in proximity, the Skull Crusher will transition into a rotating sweep that will send his enemies flying.
To deal with foes from afar, the Skull Crusher has no need for ranged weapon or spells. The incredible size of his weapon combined with his sheer strength will create multiple shock-waves. Do not get caught by these !
Should he be harmed, the Skull Crusher will grab a bite in order to heal up. Since Ogres eat people, we'll make sure he eventually eats something alive.
Finally, when his blood gets boiling the Skull Crusher will shout so loudly that the mightiest of warriors will feel their body tremble.
The Skull Crusher will have a few other tricks up his sleeve, but we'll let you discover that for yourself !
Also, the current Skull Crusher (in his smaller form, without the armor) will be known as the Ogre. He too will get a few new skills and animations, and will fight with his bare hands.
These new monsters will soon make their way into the game, and we hope you'll have fun fighting them !